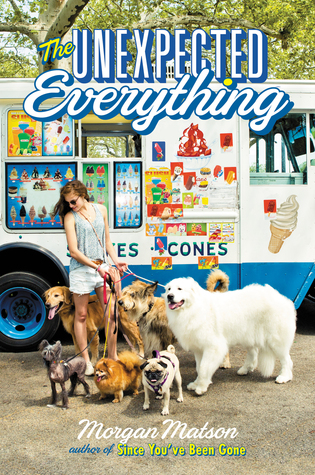 "Because believing you're not alone is the cruelest trick of all."
Read in June 2018
My Rating: 4.5 of 5 stars
May be spoilery

Alexandra – who goes by Andie – likes to know what comes ahead. She plans and plans some more. Every part of her life is dutifully organized. She knows for instance that she has been selected to complete a summer program at the prestigious Johns Hopkins, preparing her for her future career. But when her father, a prominent congressman, is involved in a political scandal, her letter of recommendation is withdrawn at the last minute and she is now facing with a summer of unknowns. Her new plan is now to avoid her father, to see her friends and to find a job to not have a blank space on her resume.
Life is unexpected, and soon she is offered a job as a dog walker. She has no experience with it but thinks that it might at least pass the time. She soon meets Clarke, a cute and yet socially awkward fantasy writer (a refreshing change to the basic self-confidant bad boy in YA). Andie is also acting awkward when she is around Clarke, she never considered getting in a relationship for longer than three weeks and the fact that she really likes Clarke really messes up all her relationship habits. All their firsts were awkward (first talk, first bumping into each other, first date…) which made them so cute and relatable, because you know, humans are weird.
"I could do this. If whole galaxies could change, so could I."
So yes, as every summery read, this book has romance in it, but that's not what makes it special. What really brings this book up is the importance of friends and family. In The Unexpected Everything, is friendship focused and friendship holds the number one spot. Andie's group of friends always comes first, before her boyfriend (which is something we don't see often in YA), before her job, before anything. Toby, Bri, Palmer and Andie are a solid quartet and they prove their loyalty toward each other times and times over. This part held an important message in this book, about how friendship can sometimes be taken for granted and that no one should ever forget how their friend is part of their support system. It also shows how friendships can be strengthened over summer.
The next thing I loved is how Andie relationship with her father gradually improved. They delt with their grief of losing Andie's mother differently and it drove them apart, and now that they are both home for most of the summer they slowly learned to tame and acclimatized to one another. They find new way to communicate and to spend time together, and that was really sweet to read about.

"Sometimes we get a little bit of a facade. We think we have people. Family, friends…but in the end, it's just you and the darkness. Everyone leaves eventually, my young friend. It's better, really, to learn it early. This way, you can save yourself some disappointment."

The Unexpected Everything is the first and only Morgan Matson book I've read so far. I really enjoyed her writing and her characters felt incredibly authentic and multi-dimensional. The way they used group text messages or sending only emojis that was really easy to connect with. It is the perfect summer read, overall happy but with much depth lying underneath. It was overall a bit predictable but really enjoyable.
Have you read this book? What did you think about it?