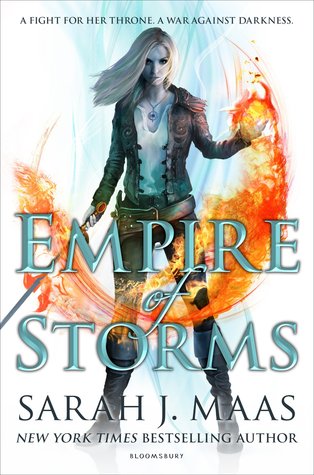 "The fear of loss… it can destroy you as much as the loss itself."
Read in August 2017
My Rating: 4,5 of 5 stars
Small spoilers bellow
WOW! This book, like Queen of Shadows, is much better than the others of this series. As always, the beginning was a bit too slow for my taste, but the real action started earlier than in the previous installments and it took me less time to get into the book (the pace took off around 30% when I usually have to wait 80% to be really hooked). So yes, Empire of Storms was super action-packed comparing with the rest of the Throne of Glass series, BUT it didn't mean that I was 100% involved in every story.
Indeed one of this book particularity is that we follow many different characters, those are in different places and follow different plot, even though those are related. As I'm not the biggest fan of Aelin, the 'main' story line annoyed me a bit and I was just longing for both Manon's and Elide's scenes. I felt so invested in their story and their journeys that I was just crossing my fingers at every new chapter hoping it would be about one of them. And once they got together, well it was one hell of a squad.
But more generally, all the secondary characters shine in this book, and the characterisation was phenomenal. Manon's character gained so much depth I can't even start to explain how much I love her even more with each new book. Her dilemmas felt so real, her struggle between the Ironteeth motto carved in her psyche and the feelings and emotions she carries for her Thirteen, for Abraxos as well. And Abraxos, I love you for bringing Manon to Aelin when she asks to go to safety and also for finding the Thirteen. Also, I can't explain, but I ship Dorian and Manon AF! 
"She hated Death. And Death could go to hell."
Really quickly, I found myself enjoying Elide's chapter more than reason should allow me. Elide really revealed herself in this book as a loyal and fierce character who has a cunning side she needed for her survival. I also discovered Lorcan as a character who thinks he has the life he wanted until he realised that he might have a better life, that he could make himself deserve a better life. I can't blame him for his acts, as it seems, no one took the time to show him the path of bravery and goodness until Elide. I'm delighted with their pairing, they really complement each other in a way I couldn't have guessed before this book but now I just can't stop shipping them.
Lysandra was bad-ass as hell! With her Aelin found a strong ally, a faithful subject and a friend as an equal. I'm telling you, our friends wouldn't be where they are without her shape shifting abilities. I really enjoyed Fenrys and Gavriel addition in this book, I really need them in the next installment. Dorian was a bit erased in this book, probably coping with what he has been through in QoS. Cutting Chaol out of this book was really necessary, because his plot is totally disconnected from the rest of the story, there were already a lot of character with a lot of action happening and I feel like his arc needs an entire separate book to deal with (Tower of Dawn coming soon)
"I'm going to call in old debts and promises. To raise an army of assassins and thieves and exiles and commoners."
Aelin and Aedion are my least favourite characters. Even though I'm beginning to understand Aelin's choices better, I'm tired of her being always one step ahead of her enemy, it doesn't feel really possible to me. I understand her in the way I would sacrifice myself over and over for my close ones but if one of my friend or my family even dared to lie to me and put himself/herself in danger, I would literally kill him/her. Yes, I'm that protective and yes, I'm that mad at her for doing that ending sacrifice for Rowan. I put myself into his shoes, or into Lysandra shoes and I'm so pissed at her I don't have words.
Last but not least, I find it so cute that Rowan and Aelin got married in secret, however I don't buy the mate story… I liked their story and its message better when I thought that they were two souls that were in love once, probably with the love of their life, but both are dead and they had to grieve and they are stronger now together. To me, making them mate diminish Sam and Rowan former lover and their importance to the characters.
Have you read this book? What did you think about it?