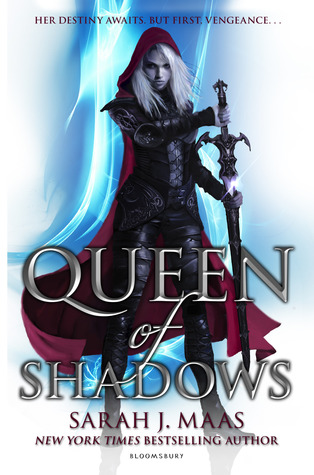 "No flowers–never flowers in Terrasen. Instead, they carried small stones to graves to mark their visits, to tell the dead that they still remembered. Stones were eternal–flower were not."
Read in August 2017
My Rating: 4,5 of 5 stars

Spoilers Below
After Heir of Fire I had a time when I contemplated putting this series down for good. It's been exactly 23 months since I read the third instalment of this series and even though I added Queen of Shadow to my TBR back then, I wasn't even sure I was going to read it some day. But my wonderful friend Pauline and her love for this series changed that (we were actually supposed to buddy read it, and we did for the few chapter before I became to slow, sorry <3), and I'm really grateful because this book was so much better than I expected.
"You and I are nothing but wild beasts wearing human skins. Don't even try to deny it"
My main issue is how boring this book was for the first two thirds, and I really was something I already disliked in the previous books. To get past the first four hundred pages or so was really difficult, because I as too annoyed to careabout the planning, the conversations, the weird relationship building and the constant obsessing over Aelin, and for a time I considered rename this book as "Reading about alpha male fighting over Aelin's favours" or "How will worship Aelin the most?".
Because yes, first things first, I need to say that in this instalment I don't like Aelin. Already in the previous ones Celaena wasn't my cup of tea but Aelin is not better (quite the opposite in fact), because the only trait of Celaena I liked were part of the character she created but now that we lost that side of her, she is just her arrogant self that everybody seems to worship no matter what she does, how mean she is or how shitty she acts. I actually only liked her when she pretended to be Celaena back, that's saying something.
Even though Aelin wasn't the driving force of this series for me, everyone else was. Because let me tell you that we meet MANY new women in this book and ALL of them are phenomenal.
And the Queen of them all is Manon Blackbeak. She is so layered and so true, her evolution hit me to my core. She is not all about obedience, discipline and brutality anymore; she is learning that she doesn't have to be the monster she was taught to be and start rebelling against what is expected of her. We can see how in the previous book she learned to love a beast and that in this book she learned to love a human. I hope that in Empire of Storm, we will see her learn to love a man
"What was it like?" Manon asked quietly. "To love." For love was what it had been–what Asterin perhaps alone of all the Ironteeth witches had felt, had learned.

"It was like dying a little every day. It was like being alive too. It was joy so complete it was pain. It destroyed me and unmade me and forged me. I hated it, because I knew I couldn't escape it, and I knew it would forever change me."
The Blackbeak Clan and more particularly the Thirteen are packed with badassness. They are so loyal to Manon even when they don't agree with her decisions, they show how united a family can be. All their chapters were my absolute favourite. On top of Manon, I fell in love with the strong and loyal Asterin, with her story and her spirit and her scars. To me she takes a great part in Manon's evolution, as she has that human side with feelings and moral, which are above their Clan's motto. I also was so impressed with Elide, she was so brave and smart and I loved how she grew on both Abraxos and Manon, how they didn't care about her brokenness and how they welcomed her as a part of themselves.
Speaking of kick-ass women, Lysandra is also one of my favourites. She brought the needed female companionship to Aelin, helping me to acknowledge that she can be a friend to someone who wasn't at some point a potential love interest, and while being a loyal friend, she doesn't worship Aelin the way her other companions do and it was so refreshing. I loved everything about her, how she dealt with Arobynn, how she saved Evangeline and sacrificed her freedom for that girl, her special power and how she doesn't even remember what she is supposed to look like, and that time when she saved the day… I just have no word to explain how I adore her.
"She was fury, she was wrath, she was vengeance."
Overall, I was a bit disappointed in the male characters in this book. Chaol used to be a character I disliked very much and this book made me hesitated about him. At first, when I realised that he wasn't all over Aelin anymore, I have to say that I was pleased and he was often raising important questions but was only met with threats by Aelin. But at some point I felt like he was only disagreeing to make a point and he started to annoy me again. However I feel like SJM tried to destroy Chaol for us, to make the reader change their ship definitely for Rowan (I preferred Rowan already but it made me kind of angry to feel manipulated). Moreover, even though I liked Nesryn very much, her romance with Chaol felt heavy-handed and kind of "you see, he'll have another love interest don't worry" like. However, I still admire the bromance between Dorian and Chaol, they redefine friendship and their loyalty knows no boundary.
I also have a problem avec Aedion because first to me he showed not much more personality than in the previous book and second I often felt like he was in love with Aelin, and not in a healthy family way, which made the "brotherly" relationship SJM tried to create between him and Rowan feel fake. And while in the previous book my favourite match for Aelin was Rowan, I just can't understand how they went from mean to each other, to friends, to all over each other. When did their feelings and relationship changed? Probably somewhere between HoF and QoS because there was nothing gradual about it. I don't know how, but they even managed to have ENTIRE conversations just by reading each other's features. Please can anyone explain to me how to say "I don't wear any underwear" with only my face, who knows it might be helpful someday.
The Wing Leader said from behind her, "Do you believe monsters are born, or made?"
From what she'd seen today, she would say some creatures were very much born evil. But what Manon was asking… "I'm not the one who needs to answer that question." Elide said.
Have you read this book? What did you think about it?