This year I read many contemporaries, standalone or not, but I often have some issues reviewing them. So I figured this post would be the perfect occasion to do a little wrap-up. So without further due, here is my article containing contemporary books I have read this year but haven't reviewed yet.

It might be spoilery but I'll keep my article short, just a little sneak-peek to make you guys curious 🙂
Thirteen Reasons Why by Jay Asher
Read in March 2017
My Rating: 3 of 5 stars
Trigger warning, this book deals about suicide, bullying, sexual harassment/assault, sexual abuse, self-harm and rape. If you are particularly sensitive about those subjects, read this book at your own discretion.
I actually kind of gave my opinion on this book on Goodreads, I did watch the TV show, and in my opinion, it was better than the book. The pace of this book was kind of odd, and I couldn't connect with either Hannah nor Clay and I couldn't keep track of who was actually being the narrator and when because this novel is short and fast-paced.
Those subjects need to be approached to spread awareness and to let people know they are not alone, but this book felt sometimes clumsy in its message. Some say it glamorized suicide and I kind of agree to that (you can find more on that subject by checking my Goodreads review here).
Overall, I would advise the TV show, but the book not so much.
---
Made You Up by Francesca Zappia
Read in June 2017
My Rating: 4,2 of 5 stars
I have always been fascinated by mental illness, my logic brain always tried to explain and understand it. Actually, it's the fact that people don't see what you see that makes my brain asking questions about perception and reality (I actually have the same thing with colour-blindness). And this book gave me everything I needed, and then more, as Alex has Schizophrenia and thus is one of the most unreliable narrators ever, she can't trust herself and neither can you.
I loved the characters of this book, and I loved how much Miles is developed even though he isn't the MC. They both work so well together. Their personal struggles should have made them stop trying to be normal, but they keep fighting, they don't let it define them. Her hallucinations were nerve-racking, and somehow she managed to keep living her daily life, I admired her for that.
---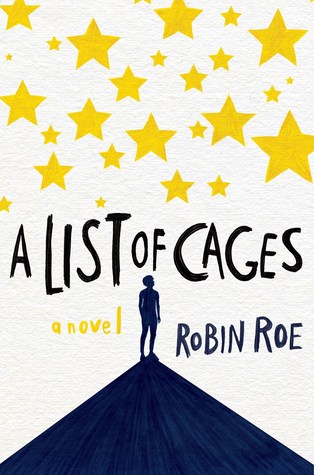 A List of Cages by Robin Roe
Read in July 2017
My Rating: 5 of 5 stars
I fell in love with this book and its characters. I barely stand reading about child abuse as it was really graphic in this book and thus so hard to read. I will never be able to understand why a person being cruel to another person, and even more to a child. Julian needs protection at all cost and his friend / brotherly relationship with Adam was so precious.
Every abused child ever need someone like Adam in their life, a hero with a golden heart. I was happy to have Adam's mom to be a strong and inspiring adult in this story, one of my biggest problem with contemporaries are absent/irresponsible parents, and here she was perfect in her role as a mother.
---
Lola and the Boy Next Door by Stephanie Perkins
Read in August 2017
My Rating: 3.5 of 5 stars
I have to say, I'm a tad disappointed in this book, as I didn't like Lola's character. I was happy to have Anna and Etienne having a supporting role, but somehow Lola seemed cliché. The weird thing is, I loved that she was being raised by two gay dads (one being her biological uncle) and that she was nonconformist. But the older-boyfriend thing and the jealous dads and the teenage angst kind of ruined it for me.
However, Cricket Bell was the cutest cinnamon roll ever. I'm not even kidding, I claim dibs on him as a boyfriend. He builds elevators for barbies and machines to send messages through the window. I loved how shy and cute he was, there is nothing cuter to me than a guy with dimples and one that talks really fast when embarrassed. He just saved the book for me.
---
Simon vs the Homo Sapiens Agenda by Becky Albertalli
Read in August 2017
My Rating: 4 of 5 stars
To be honest, I can count on my hand how many time a book made me laugh to tears, and this one is part of those, hands down. Simon and Blue are so sassy, so geeky, quoting Harry Potter: everything I needed. I also loved how naive Simon was, how he questioned the way things work, and also how he doesn't agree with it.
"As a side note, don't you think everyone should have to come out? Why is straight the default? Everyone should have to declare one way or another, and it shouldn't be this big awkward thing whether you're straight, gay, bi, or whatever. I'm just saying."
I guessed who Blue was pretty early in my reading, but it didn't matter, as I wasn't sure, and I enjoyed it nonetheless. Their relationship building was perfect and gradual. The character building was so believable, I was actually reading about true teenagers and I could relate to them, not only Blue and Simon but also Leah and Nick and Abby. I also loved Simon's family, they kind of make me think of my own, always meddling in the kids business.
---
Have you read those books? What did you think about them?