It has now become a habit for me to post my mid-year freak out TAG late, but I have to say I've never been this late. Summer has been filled with adventures, I backpacked through Brittany and it felt good to take a break from the internet and social media and I'm ready and committed to catch up on my blog posts. I already did that TAG in 2019 and I enjoyed myself so much that I wanted to do it this year, no matter how late. I couldn't find the original creator of this tag so if you know him/her please can you give me a link so that I could appropriately reward the rightful person.
It's been a while since I managed to read 39 books before the end of August and I'm really proud of myself on that one, I'm sure I'll find many books to talk about in this tag.



1. Best Book You've Read So Far in 2020?
The Hating Game by Sally Throne
🏷️ Romance, Contemporary, Adult, Fiction, Chick-Lit
This is honestly one of the easiest decision I ever had to make. I literally devoured this book, not that it was super innovative but the characters' relationship was so well pictured and the rhythm of the enemies-to-lovers trope was amazingly balanced. I had laughed, I cried, I even had butterflies and that's all I ever want in that kind of books.
Review to come


2. Best Sequel You've Read So Far in 2020?
Heartstopper: Volume 2 by Alice Oseman
🏷️ Graphic Novel, LGBT, Fiction, Contemporary, Romance
I know I'm cheating with this one, considering that I read both the first instalment and the sequel (and the third book) on the same day, but it was just so good that I couldn't pick any other book for this category (and also because I've read only two other sequels this year and they weren't that good). If you're looking for a quick read that will give you all the feels, Heartstopper was made for you.
3. New Release You Haven't Read Yet, But Want To?
The Midnight Lie by Marie Rutkoski
🏷️ Fantasy, Young Adult, LGBT, Fiction, Romance
I don't know what's wrong with me, this book has been on so many of my monthly TBRs and anticipated releases lists and yet I haven't dived into The Midnight Lie yet. I absolutely adored her previous work, the Winner's Curse was beautifully written and the characters incredibly touching. Needless to be said, as soon as I knew she was writing a book with LGBT characters, I had to be on board. I really need to read this by the end of the year now, or I'll live it as a personal failure.

4. Most Anticipated Release For Second Half of 2020?
The Invisible Life of Addie Larue by V.E. Schwab
🏷️ Fantasy, Adult
I'm so excited for this one, Victoria Schwab is a queen, everything she writes is so intricate and smart. When I met her, about a year ago at BookCon, she told me that her next book would be set in France and it made sense to me that it would make me eager to read it. I know her parents live in France and she came here to write her book so I know it would be accurate.
⌚ Expected publication: October 6th, 2020

We Used to Be Friends by Amy Spalding
🏷️ Contemporary, Young Adult, LGBT, Fiction, Romance
I need you to know that I'm not a compulsive picker. Before adding a book to my TBR, it goes through many checkpoints, therefore, I seldom dislike books because I know my tastes and I avoid picking outside of them. But I've never been as disappointed as I was in We Used to Be Friends. The story was messy, blurry and I couldn't like any of the characters. It was just horrid and I feel like it was a waste of my time.
My Review
6. Biggest Surprise?
The Seven Husbands of Evelyn Hugo by Taylor Jenkins Reid
🏷️ Historical Fiction, LGBT, Adult
Talking about knowing what I like, I never considered myself as a Historical Fiction fan. I never read a book from that genre that wowed me. But now I have to thank this book for making me change my mind. It was so amazing, it went straight to my favourite list and it left me hollowed ever since I finished it. It's proof that keeping an open mind is so important.
Review to come

Alice Oseman
Author of Heartstopper
It's one of the authors I discovered and loved this year. Outside of the Heartstopper series that I mentioned earlier, Loveless, her newest release, is on the top of my TBR. I loved how she wrote about LGBT characters so far and I can't wait to see her portrayal of aromantic/asexual character.

8. Newest Fictional Crush
Circe by Madeline Miller
🏷️ Fantasy, Mythology, Retelling, Fiction
There were many new crushes for me this year, but one of the most remarkable was none other than the famous Circe herself. Madeline Miller did an amazing job portraying a kind and understanding Goddess who used to be naive as a kid but who grew from her experience. She really touched me deeply, it's a new kind of character that I never read about before but I just loved her.

The Boy Who Steals Houses by C.G. Drews
🏷️ Contemporary, Fiction, Mental Health, Young Adult
This book was so beautiful and touching, and I loved Sam so much. His commitment to his autistic older brother, Avery, is so heartbreaking and heartwarming at the same time. Despite all he's been through, he is genuinely a good person who tries his best to be safe despite being homeless.
Review to Come

Girl Made of Stars by Ashley Herring Blake
🏷️ Contemporary, Young Adult, LGBT
I was expecting this book to be deeply touching, but I have to say it exceeded my expectations. The main character's dilemma was unbearably difficult, having to choose between believing your twin brother and your best friend is something I hope no one will ever have to do.
Review to come

The Henna Wars by Abida Jaigirdar
🏷️ Contemporary, Young Adult, LGBT, Romance
Such a cute coming of age story. I loved the Bangladeshi culture and the descriptions of food, saris, henna… Nishat was facing cultural difficulties with her family and her religion that were clashing with her sexuality. In my opinion, those are important issues to be raised in today's society.
Review to come

12. Favourite Book To Movie Adaptation You Saw This Year?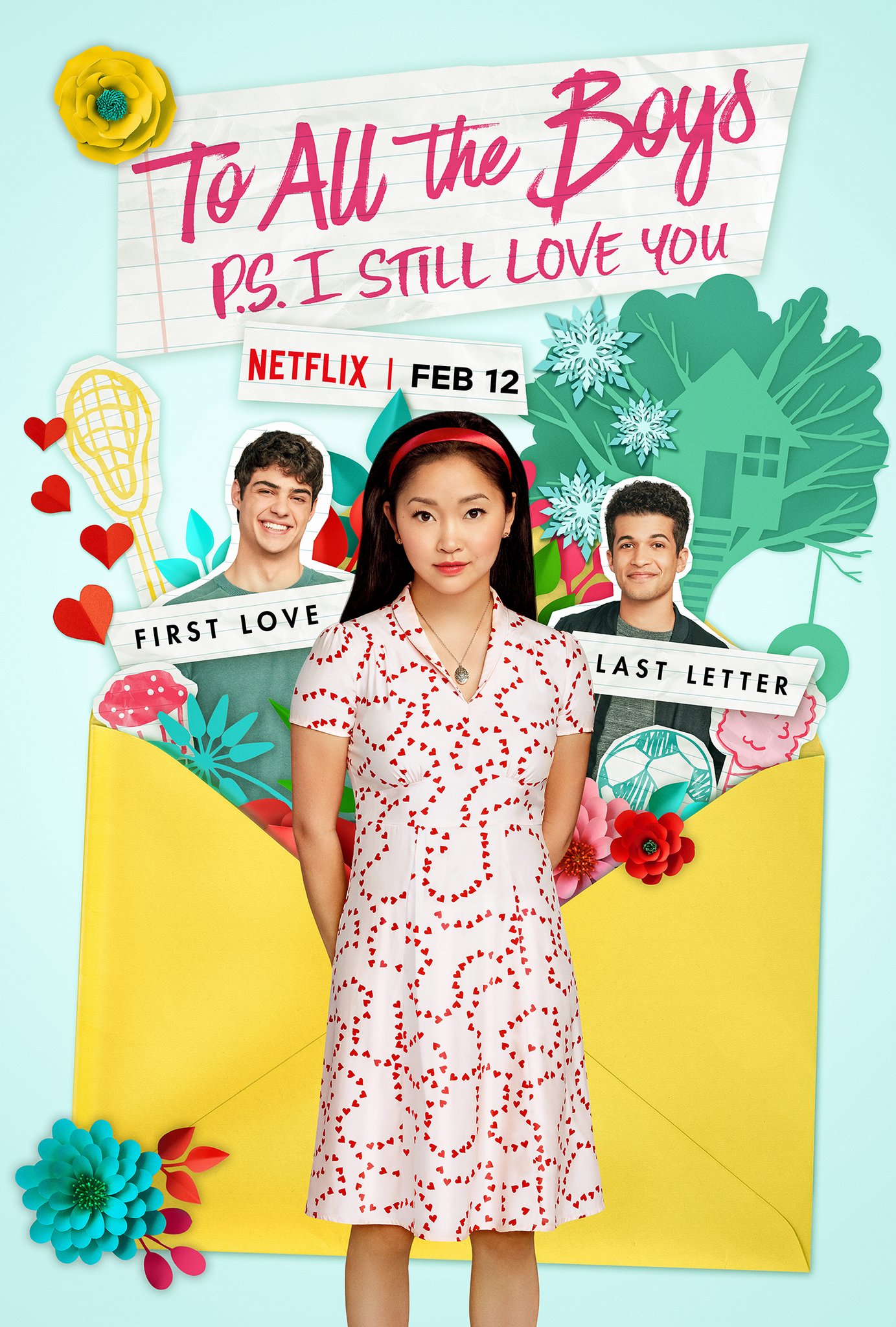 📺 To All the Boys: P.S. I Still Love You on Netflix
📖 P.S. I Still Love You by Jenny Han
🏷️ Contemporary, Young Adult, Romance
The funny thing is that I first started by watching the first To All the Boys movie and I liked it so much that then I decided to read the trilogy right before watching the second movie. Therefore, I read those books this winter and watched the second movie right after that, and weirdly enough I liked the movies better. I found the books kind of dull and I have to say that Noah Centineo has the gift of spicing things up.

Aime-moi, Je te Fuis by Morgane Moncomble
🏷️ Contemporary, LGBT, Romance, New Adult, Mental Health, French
I can't believe I finally reviewed one of my all-time favourite books almost two years after reading it. It was the perfect opportunity to re-read it, and I'm so glad I took the time to do it. This book is utter perfection, there is basically nothing that could make it better. The enemies-to-lovers trope, the bisexual MC, the eating disorder, the toxic family, all of it was perfectly handled.

14. Most Beautiful Book You Bought So Far This Year?
House of Earth and Blood by Sarah J. Maas
🏷️ Fantasy, New Adult, Romance
It'm cheating because it's one of the only physical books I bought this year (lockdown wasn't kind for local bookstores), but not only the cover is gorgeous, but the story was surprisingly good. Even though I loved the A Court of Thorns and Roses series, I wasn't the biggest fan of the Throne of Glass one overall. Therefore, it was a nice surprise to enjoy this story and to care for the characters

If I had to narrow it down to three, those three would be the ones. I was drawn to Dread Nation for a while, I seldom read horror books and I'm sure this one would be a perfect pick for Halloween time. Concerning Poison Study, it is now the oldest book on my TBR (added on July 2014), and I challenged myself to read all the oldest books on my TBR in 2020, otherwise, I would have to delete them for good. Last but not least, I picked Loveless because as I mentioned earlier, I grew fond of Alice Oseman's writing and I just can't wait to give this book a shot.
That's all for today, I won't tag anyone, but if you're interested in this late tag, consider you tagged here and now, and please, send me the link in the comment section.