"Fight until you can't breathe, & if you have to forfeit, you forfeit smiling, make them think you let them win."
Read in June 2020
In Clap When You Land, the story follows Camino et Yahaira, two half-sisters that have spent the first sixteen years of their life not aware of the other one's existence until when their father dies in a plane crash. Yahaira Rios happily lives in New York City with her parents, surrounded by the unconditional love of her father, her hero. She attends a fancy school, she hangs out with her girlfriend all the time, she pretty much has a perfect life. One day at school, she is called out of her classroom and brought to the principal's office where her mother announces that her father has died in a plane crash. Like every Summer, Camino Rios is ecstatic because her father is coming to visit her in the Dominican Republic, and he is supposed to stay for the holiday. She missed him so much and is excited to finally see him but once she arrives at the Airport, people announce her that the plane her father was in crashed.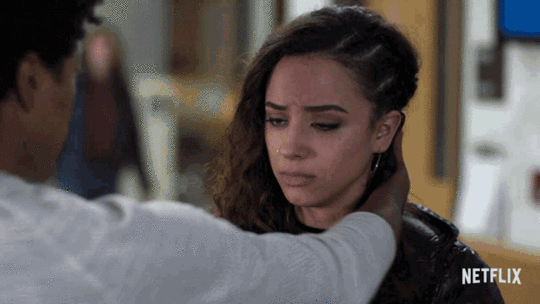 Both sisters were incredibly strong and brave in face of the events. Both of them had to grief for their father's death, and each had her own personal way to do so, but they also had to deal with the betrayal they felt because their beloved dad lied to them their entire life. It was heart-wrenching to read about their inner-struggle where loss and mourning and anger and betrayal mixed. It must be hard to come to term with the death of the person you love the most while learning he is not the hero you idolized all along, and while this same person is not even here to explain the reasons of his action or simply to apologize. I really hurt for Camino and Yahaira, and it probably means that Elizabeth Acevedo did a good job carving relatable characters.
"Maybe anger is like a river. Maybe it crumbles everything around it. Maybe it hides so many skeletons beneath the rolling surface."
Everything about this book felt authentic and the story itself really transpire something special on so many levels. I was happy to be familiar with Spanish because I'm sure it helped me understanding this novel on a deeper level. I literally could see myself in the Dominican Republic, in Camino's village, even though I only went there at the age of 8, more than twenty years ago. The portrayal of loss and longing was on point and the lost-sisters part was wonderfully handled. I particularly enjoyed how the 'family secrets' part was dealt with, it was gradual and believable, showing us tiny bits by tiny bits at the time so that we cannot fully understand the story until in the end when we are finally shown the whole picture. I really adored reading the way Camino and Yahaira slowly tamed one another and learnt to love each other.
This book is written in verses which took me by surprise. It is the first time that I read a book by this author therefore I really didn't expect it to be the format. At first, I was taken aback and a bit disturbed by it, I was bothered by the fact that the sentences seemed to cut at random, that the verse seldom rhymed, that some word had their l e t t e r s s p a c e d. It didn't make much sense for my non-artistic brain and it took me some time to be into the book's story. But after quite some time, I stopped seeing the writing style as something peculiar and stopped noticing it by the end of the book. Of course, I think that this kind of writing shouldn't be forgotten and ignored and that it should play an integral part of the story, but that's how this book worked for me in the end. Anyway, I feel like the audiobook would have maybe worked better for me.
"A queen offers her hand to be kissed, & can form it into a fist while smiling the whole damn time."
While reading reviews, I learnt that this story is based on true events that took place in November 2001 when a regular flight from JFK International Airport to Las Americas Airport in Santa Domingo crashed before arriving. Two hundred and sixty people perished in the accident, mostly Dominicans. I don't know how close Elizabeth Acevedo herself was from those events if she actually knew someone who died on that plane, but this piece of information makes this story even truer than before. Also, I just need to throw this out there, I'm just mesmerized by the title of this book. I find it so smart and poetic. Am I the only one? Anyway, I'll for sure read more of Acevedo's work really soon, but I might go with the audiobook then because reading verse wasn't my thing and yet I have the feeling that I might fall in love with the author's storytelling skills.
Have you read or will you read this book? What did you think about it?