"It's in the darkness that we can see the stars."
Read in December 2018
Reread in May 2020
Spoilers
~~~ Review in English down below ~~~
« C'est dans le noir qu'on voit les étoiles. »
Cela faisait si longtemps que je n'avais pas mis une note parfaite à un livre, mais Morgane Moncomble prouve encore une fois qu'elle est la reine des auteures, sa plume a le don de m'aspirer et de m'impliquer dans chacune de ces histoires dès les premières phrases. L'année dernière j'étais, contre toute attente, tombée amoureuse de l'histoire de Violette et Loan dans Viens, on s'aime. Ce fut une surprise pour moi car je ne suis généralement pas fan des romances en français, je trouve souvent les interactions maladroites et peu naturelles, mais Morgane écrit avec une telle justesse qu'à aucun moment je me suis posée de questions. Il en va de même pour ma lecture de Aime-moi, je te fuis, que j'ai aimé encore plus que le précédent tome. Je ne m'attendais pas que ce livre soit un spin-off, mais du point de vue la colocataire de Violette, Zoé, et de l'ami de Loan, Jason, deux personnages qui ne m'avaient pas forcément marqué lors du précédent livre, du moins pas de façon positive. Je me souviens d'avoir trouvé Zoé un peu égoïste et Jason carrément sexiste. Et bien je me suis grandement trompée sur leur compte.

Zoé rêve de faire carrière dans le luxe, c'est pourquoi, même si sa chaine YouTube et son compte Instagram réunissent déjà à toucher une petite communauté, elle étudie à l'ESMOD, tout comme sa colocataire Violette, afin d'obtenir le diplôme qui pourrait lui permettre d'exercer dans ce milieu très sélectif. Le soir de noël, elle rencontre Jason dans un bar, ils se plaisent et une forte tension sexuelle est palpable entre eux, ils finissent donc par coucher ensemble… et c'est le pire coup de leur vie. Rien de bien dramatique, ils continuent leur vie chacun de leur côté pensant ne jamais se revoir, jusqu'à ce que le destin s'en mêle ; Jason est le meilleur ami de Loan, qui suite à sa récente rupture est devenu le troisième colocataire de Zoé. Ce dernier prévient Jason, il est hors de question qu'il touche Zoé, alors ils décident de ne parler à personne de cette fameuse nuit et même s'ils peinent à cacher leur animosité et ne peuvent s'empecher de s'envoyer des piques dès qu'ils se retrouvent dans la même pièce.

Jason et Zoé sont des personnages beaucoup plus complexes que ce qu'il n'y parait au premier abord. Jason est quelqu'un de très optimiste et foncièrement positif. Il a été abandonné par sa mère biologique à la naissance et a été adopté par une famille -blanche- très riche, ce qu'il cache afin de ne pas être perçu par l'argent qu'il possède mais plutôt pour se démarquer par sa personnalité. Il se sent très reconnaissant envers la vie qui lui a été offerte et c'est agréable de voir qu'il ne considère pas son passé comme un poids mais plutôt comme une expérience. Zoé, à l'inverse, elle n'a pas eu beaucoup de chance dans sa vie. Elle non plus n'a pas été désirée à la naissance, mais ses parents ont décidé de la garder tout de même. Son père est parti, et Zoé vie avec sa mère qui est alcoolique et son grand frère manipulateur et violent. Zoé est également bisexuelle et fière de l'être, aussi, ce livre inclus un certain nombre de flash-back de la jeunesse de Zoé nous permettant de lire ses abus subis par sa famille mais également sa première histoire d'amour avec Sarah qu'elle cherche désormais à oublier avec des relations sexuelles insignifiant avec des inconnus. Avec son bagage émotionnel et son manque de confiance en elle, il n'est pas étonnant que Zoé souffre également de troubles des comportements alimentaire.
« – J'ai faim.
C'est faux. J'ai simplement envie que cette sensation disparaisse et je sais que de manger fait tout disparaitre. Du moins le temps d'un instant, avant que la culpabilité me gifle violement au visage. »
Je tiens à féliciter Morgane Moncomble pour la diversité qu'elle a inclus dans son livre, la bisexualité assumée –'I'm bisexual, YOU'RE confused'– et la boulimie de Zoé(auxquels je m'identifie forcément, et je tiens à dire que je me suis trouvée extrêmement bien représentée dans ce roman). Elle aborde également la crise identitaire, le fait de naître dans une famille qui ne nous a pas désiré, et donc le fait que notre famille soit celle que nous nous choisissons et pas forcément celle qui nous met au monde. Mais également les violences domestiques, quelles soit psychologiques ou physiques, le deuil, l'alcoolisme et inévitablement l'acceptation de soi. Se sont vraiment des sujets malheureusement trop peu abordés dans la littérature, d'autant plus la littérature française et donc je suis reconnaissante à Morgane pour leur donner de la visibilité.L'histoire d'amour entre Jason et Zoé était si touchante et leur alchimie si palpable que je le sentais dans mes tripes. J'ai adoré leur complémentarité et le fait qu'ils se portaient constamment l'un et l'autre vers le haut. Ce livre rentre directement dans mes lectures favorites de tous les temps et j'espère que vous lui donnerez une chance.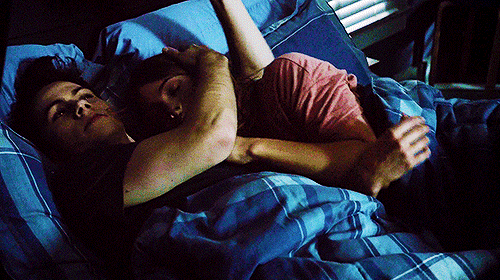 ~ L'histoire se passe en parallèle de Viens on s'aime, et si bien que l'ordre importe peu, cependant je conseillerais personnellement de lire Viens on s'aime. Mais ce n'est que ma préférence personnelle. ~
________________

Mise-à-jour le 2 mai 2020 : Je viens de finir de relire ce livre et je reste tout autant époustouflée. Aussi, peut-on parler de cet épilogue dans lequel on voit Azalée ?!
"It's in the darkness that we can see the stars."
It's been a while since I gave any book a perfect rating, but Morgane Moncomble has proven once more that she is the queen of authors, she has such a way with words that I'm stuck and involved in every single one of her stories from the first sentence in. Last year, against all odds, I fell in love with Violette and Loan's story in Viens, on s'aime. It was a surprise for me because I'm generally not a fan of romance books written in French, I often find the interaction clumsy and they lack spontaneity, but Morgane writes with such an accuracy that I never second-guessed anything happening in that book. Same goes for my reading of Aime-moi, je te fuis, that I loved even more than the previous instalment I didn't expect for this book to be a spin-off from Violette's roommate Zoé and Jason's point of view. Those two characters didn't leave a strong mark on me, at least not in a positive way, as I remember finding Zoé kind of selfish and Jason totally sexist. Well, I have to admit, I was strongly mistaken.

Zoé dreams to have a career in luxury fashion, that's why, even if her YouTube channel and her Instagram account already gather a quite significant number of followers, she studies at ESMOD school with her roommate Violette, in order to get a certificate that could he help her find a job in that very selective field. On Christmas eve, she meets Jason in a bar, they like one another, and the sexual tension between them is tangible, so they end up having sex… and it's the worst lay of they ever had. Nothing dramatic, they went one with their life thinking they will never see each other again until fate interferes; Jason is Loan's best friend, that has recently become Zoé and Violette's roommate. Loan forbids Jason to ever touch one hair on Zoé's head, so they both decide it's better to never mention that said night, even though they are struggling to hide their animosity and they can't help annoying one another every time they end up in the same room

Jason and Zoé are more complex than it looks. Jason is very optimistic and fundamentally positive. He was abandoned by his birth-mother and was adopted by another -white- very wealthy family, but he's hiding that fact because he doesn't want to be judged by the money he has, only by his personality. He feels thankful to the life he has been given, and it's nice to see that he doesn't see his past as a weight but as something that made him grow up. Zoé, on the opposite, didn't get lucky in her life. She wasn't wanted at birth either but her parents decided to keep her anyway. His father left quite soon after, and Zoé is then living with her alcoholic mother and violent and manipulative older brother. Zoé is also a proud bisexual woman, and therefore this book includes a certain number of flashbacks from Zoé's teenage years allowing us to read about the abuses she suffers from as well as her first love story with a girl -Sarah- she is now trying to forget with meaningless sex with unknown male and female. With deep emotional issues and a lack of self-confidence, it's no surprise that Zoé also suffers from eating disorders.
"I'm hungry".
That's not true. I just want this feeling to go away, and I know that eating makes it all disappear. At least for the moment, before the gilt slaps me in the face.
I really want to congratulate Morgane Moncomble for the diversity she included in her book, Zoé is comfortable with her bisexuality –'I'm bisexual, YOU'RE confused'– as well as Zoé's bulimia (to which I can easily identify and I have to say that I feel properly represented in this book). She also approaches identity crisis, being born in a family that didn't desire us, and praising chosen families, that some links are stronger than blood. But also, domestic violence, either physical or psychological, mourning, alcoholism and obviously self-acceptance. Unfortunately, those are subjects that are not enough talked about in literature, especially French literature, and therefore, I'm grateful to Morgane to have given them visibility. The love story between Jason and Zoé was so touching and their chemistry so tangible that I could feel it in the marrow of my bones. I loved their complementarity and the fact that they were constantly pushing each other upwards. This book went straight to my all times favourites and I hope you'll give it a chance.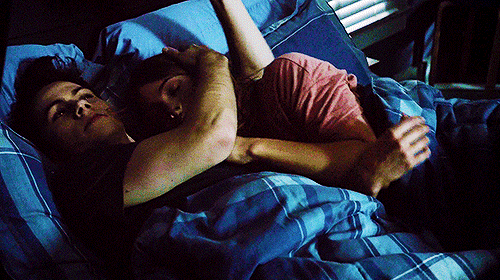 ~ This story is taking place in parallel of Viens, on s'aime, and therefore the order is not important, however, I would still advise you to read Viens, on s'aime before this one, but it's just my personal liking. ~
________________
Update May 2nd 2020: I've just finished to re-read this book and I'm once again mindblown. Also, can we talk about this epilogue where we can see Azalée?
Have you read or will you read this book?
What did you think about it?