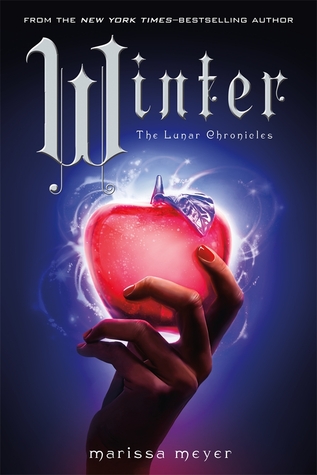 "I have returned and I am here to take back what's mine."
Read in January 2016
My Rating: 5 ⭐
PERFECT PERFECT PERFECT
Spoilers Below
That was an excellent ending. This series' actions grew bigger with each book published. To me Cress was 4.5 stars, and I won't change that rating because it is still accurate, but it would also mean that Winter is somewhere around 6, and Goodreads doesn't allow that.
Cinder & Kai 

"Leaning forward, Cinder spoke very clearly. "I have a computer in my brain," she said. "So while I'm not going to tell you that I am the smartest or, by any means, the most experienced person in this room, I would suggest that no one use my youth to believe that I am also ignorant."

I really liked this couple before. Now I love them. Cinder surprised me so much in this book. She was so strong. What I liked the most is that not once I felt that her strength was being exaggerated. Neither were her weaknesses. She had very legitimate fears and desires and she is a great main character for this book/series. We get to see her with both cyborg facilities and without. She is so human and true.

"She hesitated before asking, "Do you ever think about the future?"
His expression turned wary. "Of course I do."
"And … does it include me?"
His gaze softened in a way that made her pulse skip. Releasing the overhead pipe, he tucked a strand of hair behind her ear. "That depends on whether I'm thinking about the good future or the bad one."

Kai was kind of in the background, his main role was to keep Levana busy so that Cinder was able to implement her actions. He is really smart and faithful to his decision to help and believe in Cinder, even though this might cost his life and his people's.
Scarlett & Wolf 
I can consider Scarlett and Wolf are my least favourite character in the three previous books. But I have to say that in this book they were a kind of awesome-badass couple. Scarlett was so strong and so determined, the perfect Alfa. She always thinks before acting and I enjoyed her strategic mind.

"He growled at her. Scarlet growled back."

I liked how Wolf evolved through the books, and I can say that in Winter, he basically won the "most-faithful-to-the-crew" award. He has to fight hard against himself and his deepest needs in this book.
I like who they are an unconventional and independent couple, especially in this book.

"It's just like the one Scarlet had." He flipped the gun in his palms, running his thumbs along the barrel. "She shot me in the arm once."
This confession was said with as much tenderness as if Scarlet had given him a bouquet of wildflowers rather than a bullet wound. Cress and the others traded sorrowful looks.

Cress & Thorne 
To me, they were my favourite couple of this book. Especially thanks to Thorne I can say, because I had the feeling that Cress was kind of absent during this book. Nonetheless, her actions were always strongly needed and useful. Also, Cress is my favourite Disney character, so I guess that helped.
She was so shy in this book when it came to Thorne, and although it was endearing, it placed her even more in the background. However, she stayed heroic when it was needed and I loved that.

"She would be brave. She would be heroic. She would make her own destiny."

NOW LET'S TALK ABOUT THORNE. Because he IS my favourite male character in this book/series. I loved his smart mouth, his shyness and restraint when it comes to Cress. How is so adorable, trying to be a better person for her. But he also kept his impudence most of the time.

"Thorne scoffed. "Careful is my middle name. Right after Suave and Daring."

At some point, I feel like he is taking the leadership of the crew, he is the one who makes sure everything is going according to their plans, and he also takes decisions when something goes wrong. I really loved how he evolved throughout the book.
The scene when he finally kisses Cress (I mean when he TRULY kisses her) gave me butterfly in the stomach. It was so adorable and so full of emotions. I think it is what I liked the most about Marissa Meyer's writing, how she managed to build relationships (either in love interest or not) and how true they seem.
Winter & Jacin 
As expected, I loved Winter so much. She has such a generous and optimistic spirit, not as crazy as the preview in Fairest and Cress let us thought. She is kind of gullible, in her own world, and she doesn't fully understand the danger she can be in. I mean, who eats an apple a stranger gives you?

"Winter trailed her fingers along her harness and sang to herself, "The Earth is full tonight, tonight, and the wolves all howl, aa-ooooooooooh…"

I understand why Jacin was useful for the plot, but I think that it was my least favourite male character in Winter, I liked him but he kind of bored me with his "a guard should be in love with a princess" thing, even though Winter already confessed hers. I understand that Winter is more fragile than the other girls, but Jacin never leaves her size. Never allows her to do what she wants to do. Nonetheless, their relationship is sweet and endearing.

"Are you real?" she asked.
He smiled, but only a little. "Do I seem real?"
She shook her head. "Never."

Iko 
Last but not least, my favourite female character is (and has always been) Iko.

"A kiss from the Captain would probably melt my central processor."
Thorne winked at her. "Oh trust me. It would."
I like that because she is a robot, she doesn't seem to comprehend what seemliness is. She has no filter, no boundary and says everything that goes through her mind. But even if she is a robot, she keeps a very strong human personality trait, such as sarcasm and understanding the meaning of friendship, love and faithfulness. To me, she is the second leader in this book, with Thorne, and things wouldn't have ended up the same way without them.
"And they all lived happily to the end of their days."
Have you read this book? What did you think about it?