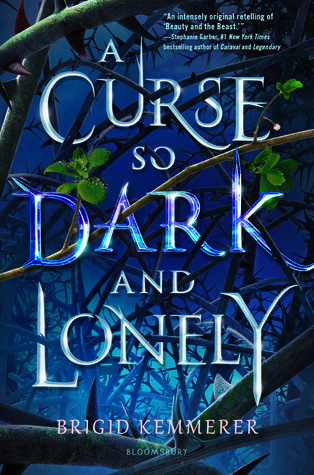 "This was never a curse to be broken. This is a death sentence. The true curse has been the thought that we might find escape."
Read in March 2019
My Rating: 4.7 of 5 stars
May be spoilery

I didn't need to know much about this book to make it one of my most anticipated releases of 2019. Actually, just knowing the fact that it was a Beauty and the Beast retelling kind of did the trick (honestly, all you have to say to make me want to read a book is to use the two words "fairytale retelling"), and to that, you can add the magnificent cover, the promise of representation as well as the fact that I received it in my February Fairyloot and I just HAD to pick it up right away. And yes, if you're curious, this book just became my favourite Beauty and the Beast retelling ever.
Overall, the original story is respected but twined with Brigid dark, alluring and creative writing, which gave a true enhancement to the story. This was my first Brigid Kemmerer book and now I just have to add her other books to my TBR, her writing style is one of the things that made that book so easy to read and so unputdownable. I also loved the representation of the LGBTQ+ community with Harper's brother, Jake who has a black boyfriend, as well as the representation of people with disabilities with Harper herself. All the characters had their own voice and had nothing in common which made the shifting perspectives clear and easy to follow since the author managed to distinct both characters with different writing styles.
"We are all dealt a hand at birth. A good hand can ultimately lose—just as a poor hand can win—but we must all play the cards the fate deals. The choices we face may not be the choices we want, but they are choices nonetheless"

Rhen is the Prince of Emberfall, after sharing his bed with an ambitious enchantress but sending her away in the morning she cursed him and his castle to repeat the autumn of his 18th birthday over and over again until a girl falls in love with him. If the girl chosen for this season does not, he would turn into a violent beast that controls him, killing everyone that stands on his path, including his own family. Then the season reloads and everything is the same, except the deads that are gone for good. But after three hundred seasons, it is now his last chance to find love and break the curse.

"There is blood under my fingernails. I wonder how many of my people I've killed this time."

Harper lives in the modern-day Washington, DC and has her own plate full. Her mother is dying from cancer, her father left them with a mountain of debts owed to local criminals that her brother is trying to pay back by working for them and not believing Harper capable enough to help him. You see, Harper has a mild case Cerebral Palsy, but she refuses to let her disability define her. One day, she witnesses a woman being kidnapped and went to defend her and she ended up being abducted by mistake instead of her, she finds herself in the cursed Kingdom of Emberfall. Harper is kind, caring and brave, she quickly grows fond of the people of Emberfall, and because she wants to get back home as soon as she can, she starts working on a way to break the curse and not once whine about her situation. I loved her spirit and the way she embraced her condition.

"They believe her limp is the result of a war injury, but Harper is quick to correct them. 'I was born this way,' she'll snap, 'and I'm going to die this way, so teach me to work around it.' They love her for it."

Grey is Rhen's guard and the last member of the castle left. He is devoted to his Prince, his loyalty knows no bound. We can easily see the loneliness both those characters have been facing before Harper arrival. I really liked that he befriended her and helped her learning how to fight. He was a needed addition in the story. I loved seeing how he acted around kids, making them laugh, it gave him so much depth. On the other hand, I feel like the fact that Grey ended up to have feelings for Harper a bit odd. I kind of pictured him as more inclined to have feelings for Rhen, to be honest. In my opinion, this book lacked a platonic friendship between a girl and a boy.
I really liked the fact that the love story was kind of an enemy-to-lovers situation because those are my soft spot. I liked the gradual growth of mutual trust and the dancing scene was one of my favourites.
The last tiny thing that bugged me and that I need to address, is that Lilith seemed like a one-dimensional villain, she lacked depth and had so much potential to be more but she kind of fell flat. Other than that, I really liked side characters such as Freya and Harper's female guard. Also, I have so many favourite quotes that I need to share them with you:
We are all dealt a hand at birth. A good hand can ultimately lose—just as a poor hand can win—but we must all play the cards the fate deals. The choices we face may not be the choices we want, but they are choices nonetheless.
"I am always surprised to discover that when the world seems darkest, there exists the greatest opportunity for light."
I do not understand how she can fill me with such hope and fear simultaneously.
This feels like the cruelest season of all, to present me with a girl with the fierceness to stand at my side—yet with a home and family she needs to return to so badly.
"Failure isn't absolute, just because you couldn't save everyone doesn't mean you didn't save anyone."
I give her a nod and turn for the door.
"Rhen," she calls after me.
I pause in the doorway and face her.
"I'm not going to fall in love with you," she says. Her words are not a surprise.
I sigh. "You won't be the first."
___________________________
Edit 06/01/2019: I actually met Brigid Kemmerer at BookExpo America, I told her how much Harper's strength despite her disability meant to me, and I started ugly crying. She hugged me and wrote the nicest thing in my book:
Have you read this book? What did you think about it?