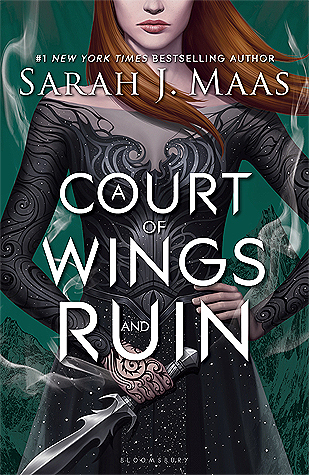 "A gift.
All of it."
Read in May 2017
My Rating: 5 of 5 stars
And thank you Pauline for the texting and messaging through this ordeal, you helped me so so much to get through this book, just thank you ❤
I'm utterly and irremediably wrecked, and broken, and empty, and bittersweet. What do I do with myself now? This book gave me the best conclusion ever, and it still managed to break me. I don't know how Sarah J Maas managed to make this book equally as good as A Court of Mist and Fury. I remember that in my previous review, I wrote « This book has raised the standards of every book to follow » and still I fell like this one wrecked me even more. I think that this TRILOGY has raised the standards of every book to follow. I had very high expectations, and this book managed to surpass every one of them, thank you for this, Sarah, thank you for all of it. Thank you for giving me dreams, and hope, and love, and a family.
This will be a very spoilery review, I'm sorry, I don't know any other way how to make it therapeutic for me. And I need it so badly. I'm still having a hard time coping with the last books in series, especially when they are that intense. Yup, I guess I still have issues dealing with loss. And I have so many things to say, and I don't know how to phrase them, and I have so many questions that need answers and that probably will never have them (in advance, sorry for the length of this review)
I'm in awe. And yes, I'm in tears. But damned I'm in awe. I'm utterly impressed by the characters' development and the world-building of this book (yes, again!). After the last book I didn't think SJM could raise the bar higher, and yet she did. Feyre's transformation is mind-blowing, her inner journey toward self-empowerment and self-acceptance is inspiring and gave me so much hope. The representation of her PTSD and how she survived her trauma and abuses was so realistic, so relatable I don't even have words. I loved how SJM allowed her characters to make mistake, to choose (and because it was all about choices) either poorly or wisely, and get over the mistakes and prejudices. I'm so grateful that I was able to live this emotional roller-coaster through her eyes.
At first, I was so afraid that the time at the Spring Court would drag or being with alternate POV, but it didn't, she totally nailed that part on herself! I loved how manipulative she was at the beginning, scheming to bring Tamlin's Court down, I was so proud that she didn't become some traumatized girl and that she kept going on the amazing development from the second book (and even if some of her choices seemed questionable for some of you, this is especially what I liked, that even as SJM often worship her characters, she allowed Feyre to be vindictive, and manipulative, and resentful, and I loved that, it was a part of her multi-layered personality).
"Be happy, Feyre," he said quietly.
Rhysand and its Inner Circle, they feel like home, I can't explain the warm feeling I have inside my stomach just right now, thinking about them. When Azriel and Cassian arrived to save Feyre from Lucian's brothers, all wings healed, I swear I yelped and I had happy tears in the corner of my eyes. They are my family, I have no other way to say it, and I love how each one of them is treated equally, everyone is useful in his way, everyone has strengths and weaknesses, playing a part in this book. They are the best supporting-characters ever written and SJM separated this book equally between each one of them, and each of development was multi-layered and amazing, writing about such complex characters, each one of them have had their lives shattered and yet keep fighting and caring for each other, for a better life, still able to find love and hope. I'm inspired.
Cassian is pure bae material, I love him fiercely, and I ship him with Nesta so bad that it hurts. Nesta was even more spirited in this book (if that was even possible!) and even if I question most of her character in the first book and in most of the second, I liked her here, trying to adapt. And that scene between the two at the end, when Nesta stopped fighting (How can it be? I don't believe it!) laying over him, ready to die with him. Embracing the idea of dying with him. My heart. My stomach. My mind. It broke every single part of me. I still can't get over this. I want them in the next books. I NEED them in the second book
As for my star glowing in the shadows, aka Azriel, I just need him to be okay. The fact that for 500 years he waited for Mor, thinking that if she wasn't making a move it was because he wasn't worthy of her. Can he need any more protection than that? I just want to hug him and never let go. I'm a bit disappointed in how Mor handled his feeling for her. Also, I'm a bit disappointed about Mor characters, as she was more on edge, sometimes even kind of childish, and a bit less badass than in the previous books. I hope she finds happiness nonetheless as she stays my brave baby.
Amren gave me the lightness and laughing I needed through this reading, I literally giggled at most of her witty comments. I'm a bit sad that they decided to keep her in the dark for most decisions (aka Bone Carve, my Feysand baby ❤ ) and I admit I often thought that she might turn on the team as they were often separated and separately scheming, so imagine the despair I had at that moment (thankfully most of it happened in my mind. I'm so happy she and Varian found each other and god THE UNLEASHING!!!! Epic scene I have been waiting for ages! I don't know, I'm just a little skeptical about her coming back to be "normal" I wanted her free, free of mind, free of the body, maybe that that cloud of mist could have settled at Velaris, only earing its murmur when the sea salt/citrus wind blew… 
"Leave this world … a better place than how you found it."
I really loved how Sarah brought diversity through all the Courts, the High Lords (Helion, and Tarquin and Vivane my god). I loved it, all of it. I loved the war planning part as well as the war itself. I loved how Tamlin was handled; he was so realistic and believable, I don't hate him anymore as we can now see that he is just human. He made wrong decisions, he has been abusive and possessive, and yet still I forgive him. I forgive him with all my heart. I wanted him to redeem, and in a way, he did what I needed him to do, I needed him to let go to finally have his shot at happiness, that by letting go he could be able the fight the anger that is eating him away. I think his position in this book was a really tough one, and in the end, he managed to handle it the best he could.
I loved that she brought up many dark creatures during those three books and that they were useful at the end, both tamed and freed. I never thought I'd be this emotional about the Weaver, the Bone Carver, or even the Suriel and that my first tears would be for the Suriel. He was a dreamer. I was broken to see a dreamer die before his dreams fulfilled, knowing damned well that his death was needed to those dreams to come true, even if he wouldn't be here to witness them. I'm losing it just writing about it… 
As I keep the best for the end, I now need to discuss Rhysand as for now I love him but I'm still utterly pissed at him. I can't believe he sacrifices himself AGAIN. I'm so mad at him for not thinking he is worth living, that he had been through enough and had given enough of himself over the year, that he considered leaving Feyre alone after the so little time they had together, the so little peace. I'm crying both over his selflessness and selfishness. I swear I can't get over the image of him dying, I just see it in my head, again and again. I cried and underlined his all speech, as I never have been touched that much by a speech. Each word a thank you, each word a gift, each word a farewell. 
I love him with every bit of my heart, and I can't find words to explain what he makes me feel, why I'm still a mess over him even a day after being done with this book. I think I will never find a character that well written, whose actions speak for a thousand words. He is the main reason of Feyre empowerment, as he gave her all the tools she needed to heal, letting her become the weapon she was born to be. Loving Feyre as an equal. Loving the Inner circle as a brother. Loving his people as a father. 
""I see all of you, Rhys. And there is not one part that I do not love with everything that I am."
I have few negative thoughts on this book, mainly that I expected more of Lucian and Elain, but I'm hopeful and I will hope that at least one of the future book is about them (ideally one about Lucian/Elain/Helion, one about Nessian, and one about Azriel as I need him to find happiness so badly, and hoping that with those books we can also see Mor finding love, Tamlin being happy, some more of Alis and Feysand babies). I will stop my review here as I just want to keep in mind the best of it and not focus on little tiny details that slightly disturbed me as overall it was an amazing closing book to an epic trilogy.
And last but not least, thank you, Lana del Rey, your bittersweet songs are helping soothe my pain and I'm slowly healing. Also part of the healing? Me buying this amazing art print for my room:
Have you read this book? What did you think about it?