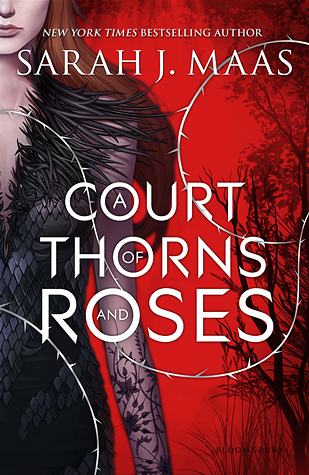 "Better to die with my chin held high than groveling like a cowering worm."
Read in February 2016
Read in April 2017
My Rating: 4 of 5 stars

I'm beyond the state of excitement for this buddy read with lovely Jonnie! It seems that I never get tired of BR with you! ❤
I've been eager to read this book because everything I heard about it was so attractive. A Beauty and the Beast retelling, in the same world of the Throne of Glass series, with badass characters and romance and faeries! I WANT IT!
Feyre is a strong-willed human. She promised her dying mother to take care of her father and two older sisters. But her family soon lost all kinds of resources and they were obliged to move to a small cottage in the countryside where they barely have enough money to eat. Especially in winter, food becomes hard to find, and Feyre decides to start hunting in the wood to provide her particularly mean and unworthy family. This particular day, she has to walk deeper into the wood before finding a dear. But she is not the only one going for this prey; a huge wolf is also hunting it. Even if she knows the risks, Feyre aims to kill the wolf and succeed. The following evening, a furious beast comes to claim Feyre's life. Indeed, the wolf was no common animal; it was a shapeshifting Fae like the beast is. A life for a life.He gives her two choices; she either dies right now, or she goes with him to Prythian, to the Spring Court where he rules.
"'You were always too good for here Feyre. Too good for us, too good for everyone.' He squeezed my hand. 'If you ever escape, ever convince them that you've paid the debt, don't return.'"
Once they arrive at the Beast land, Tamlin shifts back to his Fae form. Feyre notices the mask everyone seems to wear and ask about it. They are the result of a curse, the same curse that has lowered the power of all fairies that live in the Spring Court.
➝ My Thoughts:
I feel the same as I usually feel when I read Sarah J. Maas' books. The world-building is AMAZING, the relationship and character's building is a little more flawed. I like Belle because she is strong-willed from A to Z, but Feyre is not constant in this book. At first, she was a strong character, and then she became VERY whiny and kind of a pain in the ass, for a big part of the book. I had to read 60% of this book to have a bad-ass Feyre back.
I have the same issue with Tamlin. I didn't understand him for most of this book. Not in a mysterious way, but in a what-the-hell-is-wrong-with-this-dude? way. He is supposed to be THE Beast. I did not say that Sarah J Maas did. But she gives me a dull, nice, sweet and caring character. I liked him very much, don't mistaken me, but it wasn't what I expected nor what I wanted to read about.
However, I loved the fact that Feyre loved painting in opposition to reading, it added up to the building of the book, and I loved the fact that she wasn't playing prude in her relationships with men. I also enjoyed like crazy at the scene when Tamlin came to rescue her from the Naga, it truly made me think about the wolves attack scene.
Now I have to speak about Lucien! My god he was awesome, it was a solid character and I think I would have stopped reading before the end if it wasn't for him. Lucien is Tamlin emissary, he is in charge of "international relationship" between the Spring Court and the rest of the Faes lands. He used to belong to the Autumn Court, but fled the cruelty of his father and brothers. I loved his smart mouth, his cat-and-dog relationship with Feyre, how he gradually grew fond and protective of her.
"'Do you lie awake at night to come up with all your witty replies for the following day?'"
And, also, no matter what, I'll always find Rhysand super creepy. Sorry but not sorry.
I really liked the end though. Even though I discovered the answer to the riddle at the first reading, it was really enjoyable. I liked the inversion of roles, Feyre becoming the badass savior and truly ruling it! It was the more interesting part of this book. I loved how she slowly realizes what she has to do, how she has to do it, and what it implies. I adored the first task, where she was truly the Queen of Badassness, it showed her skills and her will. I especially loved the fact that she had to bargain with the devil Rhysand, for her own survival and the salvation of the Fae World. It promises an interesting second book!
"'I love you,' I said. 'No matter what she says about it, no matter if it's only with my insignificant human heart. Even when they burn my body, I'll love you.'"
Have you read this book? What did you think about it?