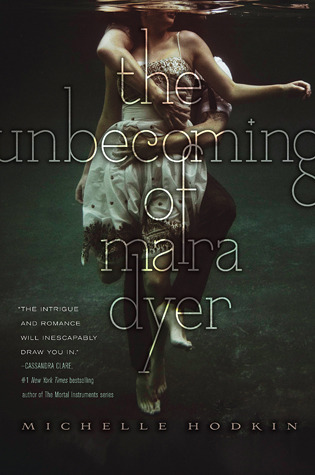 "Today. Tonight. Tomorrow. Forever." Noah's eyes held mine. His stare was infinite. "I was made for you, Mara."
Spoilers below
I can't even count how many times I've been misled by this book. So much that I started to become paranoid, making crazy theories ever other chapter (view spoiler). When I started The Unbecoming of Mara Dyer, I didn't really know what to expect. I was appealed by the eerie cover and the paranormal promise of the story (plus Pauline really recommended this series to me).
I'm not kidding here; this book hooked me from the first page (view spoiler) and had me captivated until the very end. However, I was expecting the paranormal side to be revolving around spirits and possession and not really around this "teens with power" thing. The spirits are scarier but it is what I like the most and the first pages mislead me once again, making me hope about a haunted MC (and I still have tiny hope the story will turn on this directions, but I'm probably fooling myself).
"Fix me," I commanded him. "This thing, what I've done– there's something wrong with me Noah. Fix it."

Noah's expression broke my heart as he brushed my hair from my face, and skimmed the line of my neck. "I can't."

"Why not?" I asked, voice threatening to crack. Noah lifted both his hands to my face and held it.

"Because," he said, "you aren't broken."
Even I, after reading this book, I'm not sure I can answer the question "who is Mara Dyer?" She is an unreliable narrator, therefore, "who she is" is up to your personal interpretation. Is she crazy or traumatized? Her backstory can tip the scales in both directions. Indeed, after surviving the tragedy which killed her best friend, her ex-boyfriend and his sister, Mara doesn't remember anything. Why were they in this closed down asylum? Why did she agree to go there? What happened once they were inside? What caused the collapsing? To those questions she doesn't have an answer. And all the way during the book, she will slowly remember through flashbacks. The downside is that she will also have her deal of hallucinations.
Those hallucinations were the part I liked the most. Experiencing things that no one else could, seeing her deceased friends behind here every time she looked at a mirror, hearing their laughter, that was so creepy! Most of the book, we don't even know what's real or not. We can spend chapters reading about something, then it's not real, then maybe it is, and so on. Honestly, by the end of the book, I was even ready to learn that she actually had been in the mental hospital from page one and that all her adventures were some part of her imagination, and the people she met were either made up, or co-mental health patients (and I still am reading myself to learn that in the next installment).
But then came Noah Shaw. Noah. Fucking. Shaw.
And guys, what a perfect love interest Michelle Hodkin gave us! Noah is everything I always dreamed for. Plus he is British. The way he supported Mara, the way the they both needed each other like a raft in a shipwreck, their undeniable mutual attraction… I was so attached to them as characters as well as to their relationship.
"Noah's eyes held my face. I swallowed hard. The juxtaposition of him sitting in a room full of people while staring at no one but me was overwhelming. Something shifted inside of me at the intimacy of us, eyes locked amid the scraping of twenty graphite pencils on paper."
Have you read this book? What did you think about it?