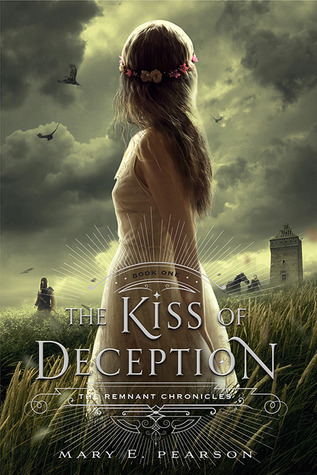 "Maybe there was no one way to define it. Maybe there were as many shades of love as the blues of the sky,"
Read in June 2017 
My Rating: 2,75 of 5 stars
Trapped in an arranged marriage, Arabella Celestine Idris Jezelia or "Lia", as she likes to be called is the first born princess of The Kingdom of Morrighan, and she is being sent off to marry the Prince of Dalbreck, a neighbor-hooding land, to set an alliance. But Lia doesn't agree to her fate and flee her kingdom on her wedding day. And this is one of the few moments I found Lia brave and that I actually liked her. As it must have taken great courage to choose love and happiness, to stand up for her rights, to lose her bearings, fleeing everything and everyone she knows for freedom, I admired that.
However blurry her escape was (it would have been probably hard to explain anyways as the palace was supposed to be heavily guarded) she made it to safety with her maid Pauline, settling in a little seaside town and they became waitresses. And this was the part where the story became boring as they literally spend two third of this book doing laundry, serving meals and drinks, cleaning bedrooms and trying to decide which of the two mysterious strangers she likes the most.
Because yes, there are two strangers and yes this is a love-triangle. An insta-love love triangle.
Because the reason I first went with this book was this: one assassin is sent to track Lia down to kill her, and the prince she was supposed to marry decided to go after her (for what? Even I don't understand after reading this book), they both find her, but we don't know who is who. The author keeps the identity secrets for the most part of this book and that sounded so interesting. However it didn't work for me as I was convinced of their true identity from THE. FIRST. MINUTE. I'm not even joking, when they introduced themselves to her, I just knew from the way they talked and the word they used. The only thing that could have saved the book for me at this point is me being wrong. I wasn't. I expected to pull my hair out; turns out I just rolled my eyes. A lot.
The insta-love made me want to rip out my own skin. Like both of them, at the second they saw her, fell desperately IN LOVE (not using this world slightly) with her. Without she even spoke one word to them. The romance was cheesy, if we can call it that, because as most of the book, it was telling and not showing. The male characters weren't enough developed to have my interest and I felt more invested in their small fight over who would have Lia than the actual romance. And please, this assassin is no assassin as he can't even do his job. I would have understood him falling in love over some time BUT not him falling suddenly in love. It would have been more understandable if he killed her right away, because he had many possibilities in a short amount of time in which he shouldn't have been in love yet.
"I am a soldier in my father's army."
Once the "big mystery" is revealed, I had a big WTF time. As Lia's reactions were not something that I could relate to at all. Indeed, she kept some very misplaced affection for the assassin (his purpose is to kill you, you don't need any excuse for him) and not even a spark of resentment to the prince for having lied to her (because, yes she lied to, but she never intended to go back to that life, so she didn't lie about her "new" life, the prince did).
Last but not least, I liked Lia and Pauline's relationship. I'm always a fan of strong girl friendship as it is so rare in books, yet so accurate in life. Pauline didn't hesitate to throw away her life to follow Lia. Sometimes she was a little bit too devoted to my opinion (as if she kept being her maid, with a lower rank as Lia) and that bugged me, but overall it was a kind of inspiring relationship.
Have you read this book? What did you think about it?