It's been a while since I have read mangas and I realize only now how much I missed it. Orange was highly popular among my Goodreads friends, so I decided to start November with light and easy reading (I needed that the heaviness of my October reads), and Orange did not disappoint. The story was so catchy I read both books in one evening each. It was so well written, so beautiful, cute and heart wrecking at the same time that I couldn't help myself and cried several times.
Goodreads spoiler-free synopsis:
A Plea From the Future

On the day that Naho begins 11th grade, she receives a letter from herself ten years in the future. At first, she writes it off as a prank, but as the letter's predictions come true one by one, Naho realizes that the letter might be the real deal. Her future self tells Naho that a new transfer student, a boy named Kakeru, will soon join her class. The letter begs Naho to watch over him, saying that only Naho can save Kakeru from a terrible future. Who is this mystery boy, and can Naho save him from his destiny?
My spoilery opinion: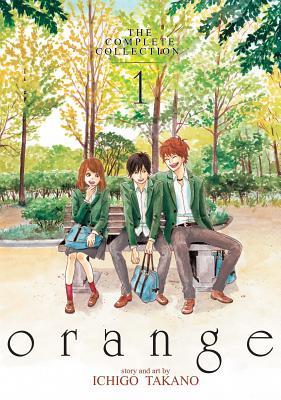 Orange The Complete Collection – Vol. 1
Read in November 2017
My Rating: 4.75 of 5 stars
This first volume was so perfect, it was everything I needed and so much more. I loved how characters were developed and I'm so in love with Suwa I might die. He was so nice and selfless, trusting without limits his future self, giving to someone else HIS shot at happiness, surely a human being like that cannot exist in real life. He's like a guardian angel watching over his friends.
Really, look at him, he only has a halo missing and he could be a perfect angel.
Orange The Complete Collection – Vol. 2

Read in November 2017
My Rating: 4 of 5 stars
I liked this volume a little bit less, to be honest, Naho's gullibility got on my nerves. However, I was happy how the group's friendship grew in this volume, how it wasn't Naho's burden anymore, but a collective effort to help someone in need. I grew found of Hagita, he cared so much but didn't know how to do, so he mostly did super clumsy things but that was so endearing. I liked Azu and Takako more as well, it was really less heavy on Naho and that was a relief for her and me. This group is friendship goal and I ended up liking them so much, each had their own qualities and it made them gold.
I've never been so emotional while reading a manga and I'm so happy the author managed to give me the feels. I felt so connected to Kakeru's dark thoughts but also to Suwa's loyalty, and Naoh's desire to help, to Hagita's clumsiness hiding how much he truly cares, to Takako's protectiveness and to Azu's contagious cheerfulness. All the characters touched me at some point, and that's what was beautiful.
Have you read this book? What did you think about it?