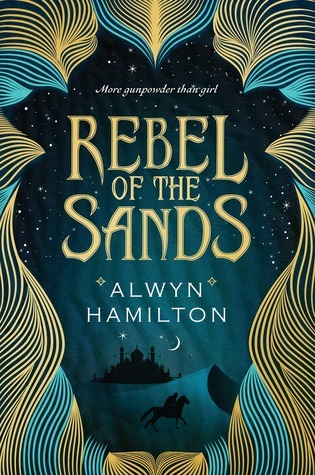 ~ This book was kindly provided to me by the publisher via NetGalley
in exchange for an honest review ~
"I believe money and guns get you a lot further in a war than magic these days."
Read in February 2017
My Review: 4 of 5 stars

This book really exceeded my expectations as it was a really enjoyable read and that once I started it, I read it in two sittings. It is rather short but the author has a captivating writing and managed to set an amazing world-building, the characters were finely drawn, complex and layered and the relationships were gradual and felt real. The magic is nicely brought up, gradually, piece by piece, enough to make us dive into it without being overwhelmed by new information. This book was action-packed but with a perfect pacing, and the opening chapter was so great I was immediately caught in my reading.
The book starts with 16 years-old Amani Al'Hiza disguised as a boy and ready to take part in a gun shooting competition. At this competition, she meets Jin, a mysterious stranger who is also a skilled shooter and who helped her escape once things got out of hand. She strongly needs to win that competition to have enough money to escape Dustwalk, her desolate hometown and she flees her abusive aunt, uncle, and cousins who treat her like dirt. Her dream is to finally be able to start a new life in Izman, the city that she and her recently-passed-away-mother used to dream about all the time. She has been saving everything that she can but now she is running out of time as her repulsive uncle decided that he wanted to marry her.
"Haven't you ever wanted something so bad that it becomes more than a want? I need to get out of this town. I need it like I need to breathe."
I really admired Amani, she wasn't the regular heroin, the one that needs to help everyone and anyone. She understands that in the desert everyone, especially girls, needs to take care of themselves. I loved the Mulan vibe she gave me. She fights for what she believes in and not necessarily for what is right or expected from her, I liked that she wasn't afraid to be selfish when her safety was at stake. She is fierce and stubborn but never helpless; she took care of herself from cover to cover, never relying on anyone but herself, defying these stereotypes we often see on books so well that she earned her place right to my book crush characters.
The setting was truly amazing, the mythical creatures were nicely incorporate in the story, we were discovering the outside world alongside Amani, seeing it through her naïve eyes. The whole world and mythology created by the author were outstanding. I dreamt about those wild sand horses as they really represent Amani's personality to me, her need to escape, to run free. I also loved the Demdji (half-breeds of human and djinni) and the fact that they each had different abilities, a magical gift, and different marks coming from their Djinni part. The story also adds up dangerous creatures as desert spirits, ghouls and skinwalkers that are evil shapeshifters sneaking in one's house at night to eat everyone in it.
Hamilton also created a complex political background with empires, sultans, generals, and rebel princes, with alliances, rebellion, scheming and betrayal. All those lead to epic desert battles with guns or magic. The fact that they had the Sultan's army on their heels for most of the book was really entertaining and made me anguish to know what would happen next.
"Jin had told me once there was no arguing against belief. It was a foreign language to logic."
Now let's speak about Jin, the mysterious stranger, and mysterious he is indeed. He is charming and secretive and winds up being the way out Amani has hoped for so long, so she decided to take her chance with him. However, he is on the run, wanted by the sultan and by following him, Amani became wanted as well hence the army chasing them. I liked them together, they are an amazing fighting team and their relationship started as a friendship which is the best and the most believable. No love at first sight, just the desperate need to save themselves. Their relationship was raw and true, with passion and anger. When their interactions turned to romance, it didn't take the upper hand on the story, it was subtle and enjoyable.
The side characters were as well-executed as the main ones. Each had different personalities and backgrounds stories, they weren't rushed and I really admired that in Hamilton's writing. I didn't see most of the plot coming, I was always surprised and on the edge of my seat. The ending was something different but in a good way. No cliff hanger here. I actually had to check on GR if the book had a sequel because the ending was kind of achievement but still had many unanswered questions. It could have been the end of it, but I'm glad there will be more to the story.
Now there are two points that bugged me in this book, the first one being that at some point in the second part of the book, I felt like Amani lost some of her personality. Moreover, I would have liked more about what it actually felt like living in this world. I needed more descriptions about the senses, the taste of food, the smell of the air, the sound of the wind, the sight of the cities, the feeling of the hot sand… But I'm confident that both those points can be improved in the next instalment, I really see potential in Alwyn Hamilton writing skills and I look forward to continue my reading of this series.
Have you read this book? What did you think about it?