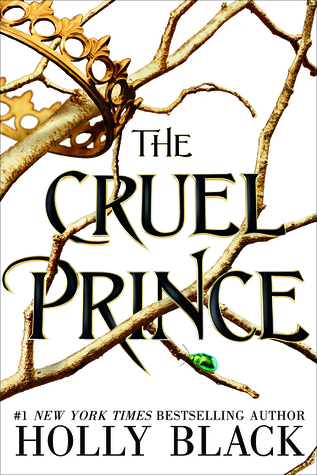 "I have lied and I have betrayed and I have triumphed. If only there was someone to congratulate me."
Read in February 2018
My Rating: 4 of 5 stars

This is my very first Holly Black book and it is a great discovery. What I liked the most about this book is her writing and now I can't wait to dive into some other books she wrote (especially since I've heard that they are somehow all related). Writing about faeries, in general, is an easy way to win me, I love the all « we can't lie » thing, always twisting the truth, seeking loopholes, scheming… Deception, deception and deception. I'm also irremediably attracted to those alluring and yet dangerous characters, and to be honest I loved that in this book most fairies, as well as human, were morally grey (they even tended to be on the darkest shades of the grey scale). It was so refreshing to read about a selfish human main character, not afraid to go after what she desires, being even cruel sometimes and who doesn't care to make enemies in the process.
Other than the writing, there are two other very important points that I loved about this book, the first one being the politics. I usually love that about fairies, with the Courts and everything, but I'm mesmerized that with a book that short, the author managed to fully develop the world as well as the complicated relationship and everything at stake between the different Fairy Courts. The second one is how the author described different ways of coping for different persons to the same trauma. But for that, let's dive into the main plot.
"No matter how careful I am, eventually I'll make another misstep. I am weak. I am fragile. I am mortal. I hate that most of all."
The book starts when seven-years-old twin Jude, Taryn and their older sister Vivienne witness the brutal murder of their parents by the Fae General Madoc. It turns out the General is Vivi's biological father (making her half-fae, and Jude and Taryn's half-sister by the mother if I'm being specific), so the General takes all three girls to Fairylands and raises them as their own. Ten years after, they are all grown-up and all have their own personalities and desire, and each rebel in their own way.
Vivi wishes nothing more than to return to the human world with her sisters, she even met her girlfriend there and they are planning to move in together. Taryn hopes to blend with fairies, she lays low and prays that maybe one day she will finally go unnoticed, probably finding protection by marrying some powerful and influential Fae male (a reaction that I personally cannot understand). Whereas Jude, our main character, dreams to be accepted and belong by playing with the same rules as fairies, she dreams to become a knight, to be a better fighter than any fairies, to best them in every way and to use her ability to lie to be even more merciless.
"If I cannot be better than them, I will be so much worse."
But behind Jude's dream lies heavy vulnerability and insecurities. She is naturally weaker than fairies and she knows it, it scares her and makes her feel like she has something to prove, like if the human race's honour relies on her. She also hates herself for liking Madoc and even feeling like he is a father to her. There is a lot of envy within her, she has this need to be a part of them and actually be worth it. She doesn't understand her twin sister's reluctance and confront her many times for it. Jude also has an inner strength that probably started as a show but grew up to something real that I admire, making her a fierce fighter.
Prince Cardan is everything I expected a Cruel Fairy to be: twisty, creepy, CRUEL (I had to write that down one more time just so we're clear) and utterly dangerous. He is wearing his nonchalant face for everyone to see, but he has deep traumas that might help the reader understand his choices and decisions, even though he is a prick most of the time for the fun of it. It's basically the school bully that bullies those weaker than him because he is himself bullied by someone stronger than him (as dear Mr Stinson might call it the Circle of Screaming Bullying). Madoc was also a very interesting character.
"Instead of being afraid, I will become something to fear."
Overall it was a really enjoyable read, even though some chapters in the middle were kind of slow, I loved how nobody can be trusted and that I always had to use my scheming brain to try to guess some plot twists (and failed most of the time). It was also very refreshing that romance was kept very light in this book, I expected more and it wouldn't have felt right. The world-building and politics needed most of the book attention for it to be fully understandable and in the end, it was just very well executed.
Have you read this book? What did you think about it?