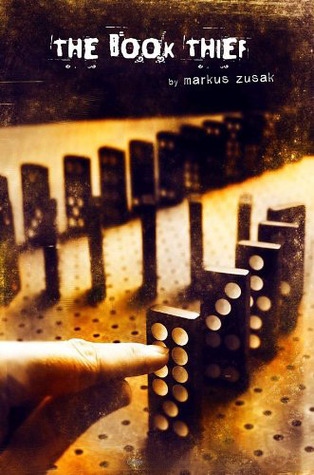 "It was a Monday and they walked on a tightrope to the sun."
Read in December 2017
My Rating: 4 of 5 stars
Book 7 of My November/December Project
This is actually my third try to read this book, as I've already DNF twice in the past, even though I've watched the movie ages ago and liked it. I decided to give it a last chance and try it in French this time, and I'm glad I did, because even though it was overall long and slow (it took me two weeks to read it), the writing style mesmerized me, it was very original and I had a nice time reading it.
The first original point is the unique and almost poetical narrative, the prose flows, full of images (and hat down to one who translate this book into French, it was just perfect). Furthermore, the narrator is as unique and unexpected as this book is; indeed, the voice telling the story is no other than the Death itself (even though it's humanized in the book, its not genderized so I'll still us the "it" to refer to her/him). And Death, telling us the story of Liesel Meminger, watching her life from afar, doesn't withhold information from us, as for it, the result doesn't matter, only the path does.
"I've seen so many young men over the years who think they're running at other young men . They are not . They're running at me."
Liesel and her little brother are being send by their mother into a foster family, but he dies on the way to Molching. This is the first time Death met Liesel's path, this is also when Liesel stole her first book. Back then she doesn't even know how to read but can't help herself. Liesel is thrown in a life away from all her habits and has to get used to the fact that she lost her brother, that she'll never see her mother again, but also to a new family and a new city.
The first points that made me like this book is that it fought against stereotypes, generalities and common beliefs. All German weren't fond of Hitler and many of them actively oppose the Nazi's. It's not enough shown in books and movies and history classes, but there were resistance fighter as well as numerous individual action of kindness toward Jews among German. Most characters of this book were grey and that is very important to me. It made the story so believable
"I have hated words and I have loved them, and I hope I have made them right."
I also loved how true this book seemed. I think its slowness helped in that. We were reading about the everyday life during WW2, some days bad things happened, some days nothing happened and even some days good things happened. The most important is to keep some part of humanity and that is what the characters did. Hans Hubermann was a candle in the night and Rosa Hubermann woke the "I've got thick skin and an elastic heart" part of me. Rudy has shown so much love and friendship that was inspiring. All three of them had so much potential for doing good.
Overall, even though it was a bit too slow for me, this was an inspiring reading experience, focusing on the power of words/books as well of humanity, kindness and friendship.
"It kills me sometimes, how people die."
Have you read this book? What did you think about it?