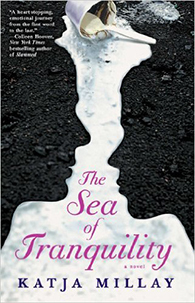 "When you look at her what do you feel? … Joy, fear, frustration, longing, friendship, anger, need, despair, love, lust."
"Yes."
"Yes, what?"
"All of it."
Read in November 2017
My Rating:  5 of 5 stars
Book 3 of My November/December Project

Strong spoilers below
Even almost a full week after having finished this book, I still feel it all around me. I still feel every emotion in my veins, every ache in my bones, every tears and every smiles in my flesh. Because The Sea of Tranquility is a rollercoaster of emotions, and like in a rollercoaster I laughed, I cried, I got scared, I got sick to my stomach, and even when its over, it shook me so much that I still feel like I can throw up any second now. It's a rare thing when a book can make me feel physically ill, but here it did. That's how invested I was and this book just refused to let me go, I was hooked, an addict.
The story was so sad and complex, and yet compelling. It's not easy to write a story about harsh subjects, and even though most of them seemed to be in this book (life, death, traumatisms, recovery…) the writing style was so poetic and meaningful that every word went straight to my heart. The Sea of Tranquility takes its broken characters on a journey of healing. Nastya and Josh both suffered like no one ever should, and their suffering, loneliness and fears are aimed to this recovery and it was so intense and inspiring.
"There's got to be a happier ending than this, here. There's got to be a better story. Because we deserve one. You deserve one. Even if it doesn't end with you coming back to me."
Nastya was so gifted that everyone used to call her The Brighton Piano Girl, until the day her life changed to the point of no return. Her dreams were shattered by a random act of violence during which she died for ninety-six full seconds before being brought back to life. She remembers what happened to her, but she thinks she isn't strong enough to talk about it yet and fall into a self-inflicted mutism. And she decides to run. She runs from everything and everyone she knows. She runs to find a place where she could feel like se belong. Until she finds his garage. Josh Bennett's garage.
Josh had his fair share of loss. His mother and sister died in a car accident when he was younger, then his father had an heart attack few years after, he was taken by his grand parents, but both soon passed from cancer. He is now all by himself, and keep everyone at arm length so that he doesn't have anyone left to loose. He is a loner, always in his garage building something, or at Home Depot getting materials so that he can build something (and who know he could make wood work as sexy as pottery in Ghost, I swear I'm now staring at furniture).
"I'm trying to see the magic in everyday miracles now: the fact that my heart still beats, that I can lift my feet off of the earth to walk and that there is something in me worthy of love. I know that bad things still happen. And sometimes I still ask myself why I am alive; but now, when I ask, I have an answer."
Neither of them are perfect, surrounded by worlds of pain, grief and self-imposed isolation, and both of them found salvation and some level of solace in each other. They both needed the same things: company, friendship, trust and understanding without judgement and that's what they got from one another. I loved how their humour and dark thought were complementing. The character and relationship building was flawless, it was so believable and slow, and yet I never found myself bored. It's all about the healing, and it takes time, it never was rushed or botched. Some scene happened without a particular purpose outside the healing and that was what made this book powerful and beautiful.
Nastya's inner strength was believable, I loved how she ran, and how she took self-defence classes, it made it so real. This book truly was character-driven because in addition two the main two, every secondary characters left me in awe by their depth. The one that surprised me the most was Drew, he was so much more that we though while reading the first few chapters, his loyalty knows no limits (and he was a much needed comic relief) and I loved that we got to see his family. Indeed I have an issue with families in YA and here even though the two MC didn't have any family around (Josh for obvious reasons and Nastya because she lived with her aunt that works night shifts in an hospital) Drew's was here and were perfectly represented. They cared and gave a good parental image to readers.
"When I look at her now, I think, for just one second, that God doesn't hate me so much after all."
About the ending, even though it kind of bothered me that the guy who attacked her was given an excuse, but I liked Nastya realizing that he could have one. It never occurred to her that he had his own issues, and even if it doesn't make what he did forgivable, it's interesting to see her perception of it. The last few sentences powerfully uplifting and actually left me crying. I was happy and sad, you know. And I still am.
Have you read this book? What did you think about it?