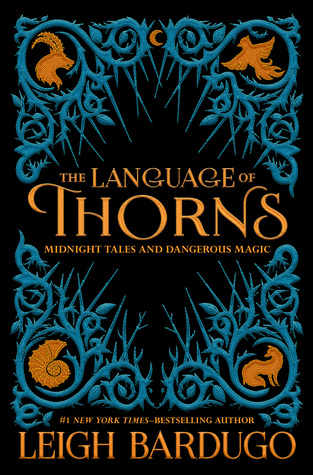 Read in October 2017
My Rating: 4.25 of 5 stars
I know I'm still posting reviews from my October project, even though we are now in November, I've been quite busy those past days and I didn't have time to review my books on time.
I received my copy of this book from the Fairyloot box of October 2017. I'm so very happy with this special edition because the cover is just gorgeous (the yellow matte part is now in dark shiny red = perfection). The inside is as wonderful as the cover; as every page is brighten up with many magnificent illustrations.
Average rating: 4.25 stars
The Language of Thorns: Midnight Tales and Dangerous Magic is a collection of myths, folklore and fairy tales associated with the Grishaverse (the Shadow and Bone Trilogy and the Six of Crows duologie). Overall I had such a good time reading the six stories, I was once again mesmerized with Leigh Bardugo's writing and imagination, by the way she can always twist a story and surprise me with the turn of events. The magical and mysterious edge the stories had was perfect for Halloween (and could also be perfect for Christmas), and I ended up being both touched and hurt by them. They were like roses, beautiful, yet full of thorns
What pleased me the most, and really it was the common trait of those tales, is that it features strong and independent woman who, contrary to most of our tales, don't seat and wait for some prince charming. They were making a future for themselves and that was so enjoyable to read. I definitely want to raise my kids with stories like those.

Ayama and the Thorn Wood ★★★★★ (5)
"You see, people are born with a piece of night inside, and that hollow place can never be filled – not with all the good food and sunshine in the world. That emptiness cannot be banished, and so some days we wake with the feel of the wind blowing through, and we must simply endure."
This first tale ended up being my favorite of them all. I'm so happy that Leigh Bardugo decided to center that first story on outcasts. I'm so fed up that in every book I read characters are described either are beautiful and perfect or as seems-normal-but-has-no-idea-how-charming-he/she-really-is. Here the two main characters are casted out because of physical attributes. The prince was abandoned by his parents because he looked like a monster, and his older brother was perfect enough physically speaking to become king, and the girl is treated by her family as a servant because was less pretty than her sister. She is also forbidden to talk because her voice is displeasing. Their road cross several time because the village believe both of them to be expendable, and their meeting gave birth to an inspiring tale.

The Too Clever Fox ★★★★☆ (4,5)
"I can bear ugliness, I find the only thing I cannot live with is death."
I actually already read this tale back in 2015, but I enjoyed it way more today. I liked how the Fox used his gift and skills to compensate what he nature didn't give him, and I felt connected with him so damn fast. He wasn't gifted with beauty, or physical strength but he managed to learn how to survive with different talents. That in itself gave a good lesson. But the clever Fox can also be called the bragging Fox. And that's the second great lesson, because he became so sure of himself that he forgot that he wasn't safe from meeting someone more clever than he is.

The Witch of Duva ★★★★☆ (4,5)
"There was a time when the woods near Duva ate girls."
I also read this tale in 2015, and liked it more this time (even though I already loved it back then). I remember being frustrated because when I read it, I was in serious Grisha Trilogy withdrawal, and I didn't understand how this book was related with it. Now that I understand the background I let myself enjoy it even more. I was once again surprised by the ending, when Nadya is driven by her evil stepmother into the wood where the witch is supposed to live, I was already seeing Hansel and Gretel retelling, but I was so wrong. You guys can read this story for free if you click here.

Little Knife ★★★★☆ (4)
This is actually one of my favorite illustration of this all book. This is the third and last story that I actually read in 2015, and then it was my least favorite. I enjoyed it more today as well, but it still wasn't part of my favorites. It was one of those I couldn't really feel a connection with but it was pleasant nonetheless. It tells the story of a poor man that wants to seduce a beautiful girl, but instead to win her with his bravery and brain, he calls to his magic instead. And magic always comes with a price. I like the ending as well as it conveys a strong idea women empowerment.

The Soldier Prince ★★★★☆ (4)
I really enjoyed this tale that was new to me. I like the Nutcracker retelling theme and I liked even more how Leigh Bardugo twister what we expected to something heartbreaking as well as beautiful and damned I loved how she introduced LGBT characters. I couldn't decide how I wanted the story to end as I wanted to please all the characters but they all wanted too different things to make that happen.

When Water Sang Fire ★★★☆☆ (3,5)
"This is the problem with making a thing forbidden. It does nothing but build an ache in the heart."
This is the tale I'm the most confused about, I can't decide what to think about it. The mermaid thing made me hard for me to connect with. This tale was the longest and for the most of it, I couldn't really link with the characters nor really understand what the story was about. I liked it in a weird way but also it disturbed me in other many ways. I thought I made my mind about this tale, but while reading review, I understood that The Darkling was actually IN the story, and now I want nothing but re-read it to actually understand what part he took and if any hint were dropped.
Have you read this book? What did you think about it?