Hi everyone,
I've decided to do my first WWW Wednesday which is formerly hosted by MizB at A Daily Rhythm but now hosted by Sam @ Taking on a World of Words. Please don't hesitate to link your article in the comment section below, and if you don't have a blog, to directly answer the questions here. So, The Three Ws are:
1. What did you recently finish reading?
2. What are you currently reading?
3. What do you think you'll read next?
Here we go, guys!
---

1. What did you recently finish reading?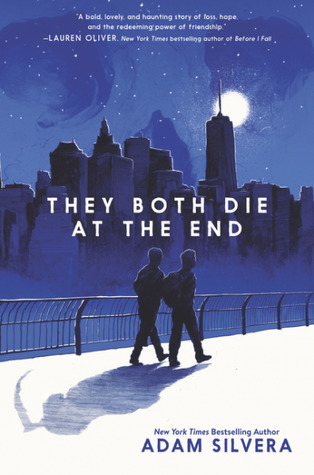 The last book I read was They Both Die at the End by Adam Silvera (review will be soon on this blog, in the meantime, you can check it on my Goodreads account here). I started this book on Sept 5th, the day of its release as I was highly anticipating it and finished it on Sept 8th. I found myself very overwhelmed by the story, the characters and the concept of the book itself. To be honest, it had put me in a bad place resulting in a small reading slump as I couldn't pick another book for several days, but thanks to this book I finished my challenge of 40 books, so it helps me to take my time before reading something else.
2. What are you currently reading?
I'm currently reading The Raven Boys by Maggie Stiefvater. This is the first book of a series called The Raven Cycle, I'm around halfway through it and I'm liking it okay. It's not amazing or anything but still enjoyable so that probably means that I'll finish the three next books while I'm at it. I'm very attracted to supernatural phenomenons so I'm pretty sure that I'll like the next books more and for now I really like Blue and the Gansey, Adam, and Ronan seem complex enough to hold my attention.
3. What do you think you'll read next?
Wow, that's planning far ahead as I've three and a half books to finish before thinking of "what next?" I guess I'll pick one of the above September releases, depending on if its still September or if we're in October, as I challenged myself to only read Halloween related books during the month of October:
Click'd by Tamara Irland Stone or Warcross 

by Marie Lu are books I would pick if we're still in September as both books are super appealing, somehow both related through technologies. I'm anticipating Click'd mainly because of the synopsis, I feel inspired by the heroine and the story in itself. As for Warcross, the fact that I want to read this book is because, well, it's written by Marie Lu (and also the hype around this book makes me curious)



The Dreadful Tale of Prosper Redding by Alexandra Bracken or An Enchantment of Ravens by Margaret Rogerson would be part of my October TBR. The demon and possession VS the fair folk are perfect subjects for my Halloween project. More than that, I'm a little bit more attracted to the plot of AEoR, so I might pick it first.
Well, that's it for me, I guess I won't do this meme for a while now as I probably planned the next month or so of books.
Anyway, as I said earlier, feel free to share with me your own WWW Wednesday and to answer in the comment section if you don't have a blog or don't plan to publish a specific article about that.